I finished a second blanket for CraftHope last night. I don't have a walking foot, and quilting scares me, so I've been cheating. I've just been putting on a piece of fabric for the back, sewing it inside out, turning and topstitching. So, basically the same way I'd make a trivet, but MUCH bigger. Then I hand tie with embroidery thread in roughly 5" segments. I assume that must be some kind of major quilting faux pas? But it gets the job done with no tears or swearing from me!
I'm really happy with how this turned out. My
local quilt shop
sells one pound bags of scraps for $5. It's mostly long strips of 1" to 4" or so in width. I cannot go in there without coming out with one of those bags, which is why my scrap collection looks like this:
So, I pulled out a bunch of black, white and red strips, sewed them all together end to end, cut them up and put them back together and came up with this: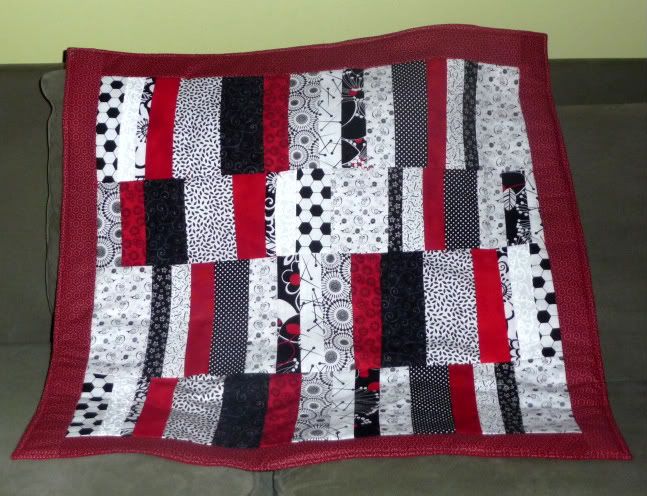 I didn't have anything that matched that was big enough for a backing, so I pieced together a remnant and a couple more of those handy strips.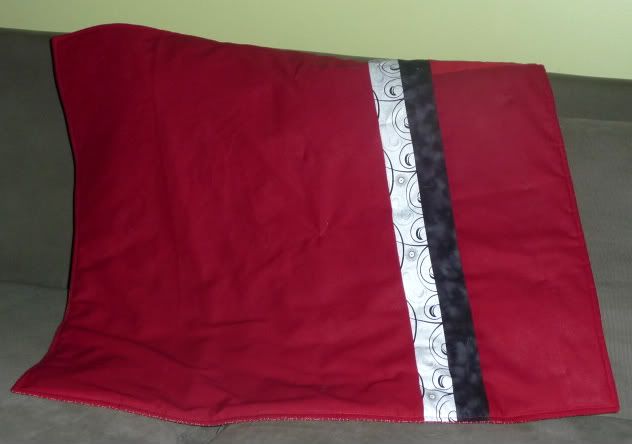 I'm really excited about this! It didn't take very long, and used up a bunch of scraps I would probably not have used for anything myself. Definitely planning on making one or two more!