I finished another Amy Butler Barcelona Skirt the other day. This time I used the regular A-Line pattern. It went together much more quickly and easily, but I miss the detail of the layered skirt.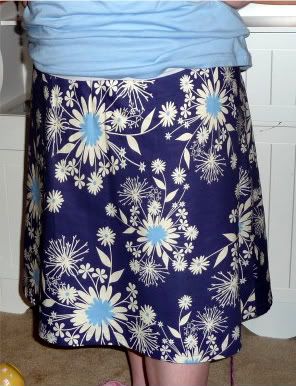 It's not a great picture, but you get the idea. The fabric is from JoAnn- I bought it when I first started sewing because I liked it so much, but had no idea what I'd do with it. I'm glad I bought enough, I love it as a skirt! Some of the coordinating prints are still at JoAnn, so I'm contemplating making the apron overlay to jazz this up a bit.
But what I'm MOST excited about with this is the zipper! I still don't have a zipper foot of any kind, so I had to do this with my regular foot. I don't even know what kind of foot it is, it's got a wide opening like a zig zag foot, but it's clear plastic. Anyway, I am SO pleased with how this came out. With the
last skirt
, the zipper was functional but it's far from "invisible." Notice I didn't post any pictures of the zipper on that one! But this turned out pretty darn well, if I do say so myself!